Visit Our New Site at MID OHIO REMEDIATION
Structural Drying - Drying Without Damage
ESS, an IICRC certified company, can help you dry your floors and wet carpet or drywall without the need for additional surface damage.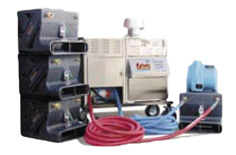 Proprietary Drying Technologies:
The world of drying has evolved quite a bit over the years. We utilize the most state-of-the-art equipment to help you get back to normal life. From Thermal Energy Transfer Systems and Infrared Drying Systems to conventional drying equipment, we can help you dry out your home or business without the need for surface removal.