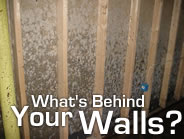 How do I know if there is a mold or bacterial problem?

You may see white thread-like growths or clusters of small black specks along a damp bathroom or basement wall or smell a "musty" odor. Seeing and smelling mold is a good indication that a mold problem exists. However, you cannot always rely upon your senses to locate mold. Hidden mold can be growing behind wall coverings, ceiling tiles, inside walls and many other places. Rooms with both high water usage and humidity, such as kitchens and bathrooms are often havens for hidden mold.

A professional inspection by a ESS trained and certified technician using state of the art equipment and the latest techniques is the answer.


What Can I expect from a mold or bacteria inspection and testing assessment?

Making a decision to buy or sell a property is an important decision. Without sufficient information, you can end up with expensive surprises down the road.

ESS technicians are certified (AMRT) and use specialized equipment that allow us to investigate hidden areas and search for water damage, saturated materials, mold growth, and bacteria growth.

We will provide you with an easy to read report that answers your questions and details the fungal ecology of the indoor environment of the structure.


Protect yourself, our professional inspection includes the following:

* Moisture meter testing
* Humidity testing
* Visual inspection of the entire property including attic and crawlspace
* Air quality analysis, testing specifically for mold
* Carpet sampling
* Determination of the source of mold (if discovered)
* Easy to understand mold report analysis from an accredited lab
* Protocol for remediating a mold or bacteria problem (if discovered)
* Clearance to occupy serviced areas
* Work backed by a 5-year warranty


SAMPLING EQUIPMENT - AIR AND BULK SAMPLING TESTS
| | |
| --- | --- |
| | |
| | |

VISIT OUR WEBSITE –www.ess30.com- or give us a call - 877-377-1274
"Serving Ashland, Avon Lake, Brunswick, Dayton, Medina, Mentor, Parma, Pepper Pike, Solon, Westlake, Wooster, OH, Ohio"