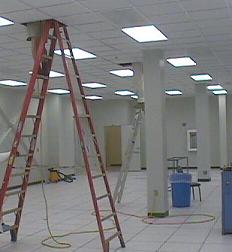 Can Your Building Pass the Health Test?
Not every school has had students and staff refusing to attend because of building health problems.

Not every office has had more than half of its employees refusing to report to work because of headaches, sore throats and respiratory complaints.

Not every hotel has had to be stripped to the wall studs to eliminate mold and mildew odors, damage and health problems.

Not every hospital has had a half million gallons of water flooding the building to create potentially devastating bacterial and fungal contamination.
Most buildings don't have such obvious dangers, but every building has the potential for major environmental problems — problems which, if ignored, can and will cause physical damage, odors, loss of productivity, lost clients or guests, infection, illness, failed or contaminated products, increased health claims and litigation.

These indoor environmental problems may seem extreme, but they are real — and common. Each was solved cost-effectively by the unique system used by ESS-Environmental Structural Solutions.

ESS blends professional disciplines ranging from microbiology to construction to law, comprehensive diagnostic and analytical tools, specialized treatment techniques and continuing facilities management skills with an exclusive antimicrobial chemistry.

The antimicrobial application ESS uses is the keystone tool for biological contamination. It involves problems and it prevents problems. It controls the sources of microbial contamination for extended periods and has been doing it safety and cost-effectively for more than a decade.

The choice is yours. You can ignore the complaints. You can live with them and hope nothing serious happens. You can use ever increasing amounts of conventional (and often highly toxic) disinfectants, sanitizers and biocides. You can hire eminent consultants to make recommendations. Or, you can solve your problems.

The offices, schools, hospitals, and hotels referred to above are real examples. If you like hard scientific data on laboratory test, microbiology, chemistry or toxicity and peer reviewed articles from prestigious journals, we'll be happy to supply them.

But we'd rather show you data from actual buildings which no longer have problems. It's a long, long way from the test bench to the real world.






ALL SERVICES HAVE A FIVE YEAR WRITTEN WARRANTY

VISIT OUR WEBSITE –www. ess 30. com- or give us a call - 877-377-1274
"Serving Ashland, Avon Lake, Brunswick, Dayton, Medina, Mentor, Parma, Pepper Pike, Solon, Westlake, Wooster, OH, Ohio"